Section 3: Saint-Tite-des-Caps (80km / 50mi) to Auberge du Fondeur (124km / 77mi)
After 13 hours in the trees, I finally in open air. The route followed the highway for a while on what appeared to be a makeshift trail made just for the race. I still felt sluggish but after 30-40 minutes I felt my legs coming back. Mont Sainte Anne was now visible in the distance. I started to run down a grassy road towards the trees at a decent pace. When the trail entered the trees, I started pushing harder and harder, feeling like a runner again.
We were making our way towards the river for the infamous Mestachibo section. The trail undulated as it descended and I was running the dips and short climbs well. We finally reached a super steep descent and I could see the river through the trees. When I got to the bottom, there were rafts and a whole crew of people on site to transport runners across the water. I was given a life jacket and told to sit down in the boat. Two men then pulled me across the water via the ropes attached to the boat. I smiled and thanked everyone. It was pretty cool.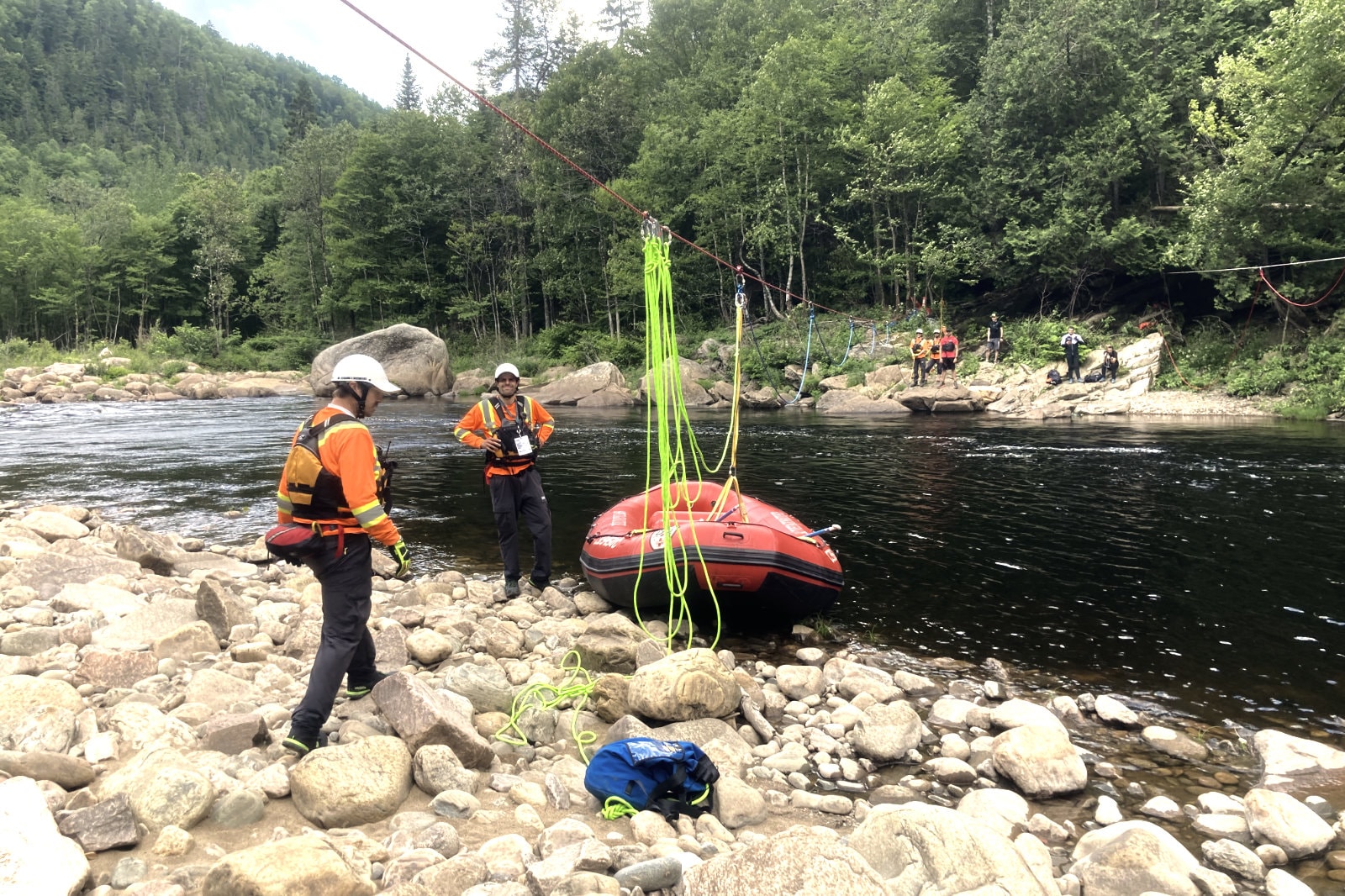 Crossing the Sainte-Anne river via raft
Once on the other side, I quickly started moving as the next aid station wasn't far. The trail was as steep and as gnarly as I remembered from my training run, but I was moving well. I climbed steep stairs and descended down rocky trails, the river visible through the trees below. About 15 minutes later I reached the Mestachibo aid station at 92km. I'd hit an A goal split for the first time since Le Massif. I was having fun again.
The crowd at the aid station was friendly and encouraging. I refilled all three of my bottles so that I'd have extra water to pour on my neck. I also ate some delicious ginger chocolate chip cookies they had on offer. After hours of eating sugary "sports food", the cookies were a welcome change. As I left I asked about the two guys running together and was told I was only a few minutes behind them.
I ran hard, but I felt relaxed and in control. I soon caught up to the guys on a steep climb and we exchanged a few friendly words as I passed. Even though I enjoyed their company, I secretly hoped I wouldn't see them again until the finish. It's a huge mental boost to pass people in the back half of the race and now that I was moving better, I hoped I wasn't too far behind to reel in a few more people.
I manoeuvred over the large boulders and rocks, a few times having to remind myself there were still over 60km left to go. I wanted to take advantage of the boost of energy I was having while also being smart. I soon came up on another hundred mile runner who I estimated was likely the lead woman. She was incredibly friendly and upbeat. Her attitude was contagious. We chatted for a few minutes until I pushed ahead with a smile on my face.
With 5km until Mont Sainte Anne, I started to bump up against the tail end of the 50km race runners. I chatted to a few of them as I passed. I spoke with one woman who was nursing a calf injury. It wasn't her day, but she was still grateful to be out here. She said I was probably in 13th place. After a rough morning, I was happy with my position.
I kept pushing until I came to a beautiful waterfall and a very steep set of stairs. I climbed and climbed and finally reached a trail I recognized just below the highway. It felt good to run after grinding up all those stairs. I could hear people cheering as I neared the base of the mountain. I was soon at the MSA aid station where Anne, Joe, Emily, Alex, Nate and the two dogs were waiting for me. 104km down, 55km to go.
They had snacks, fresh shoes and even calendula cream for my legs. 16 hours of overgrown trails had left my calves insatiably itchy. I asked to have one of my bottles refilled with Skratch drink mix as that had been working really well since Saint-Tites-des-Caps. Each bottle gave me 400 calories which was good for about two hours. Anne fetched some gingerbread cookies for me while I changed my shoes. Even though the Superiors had felt great, they have minimal padding and the bottoms of my feet were starting to ache. I upgraded to the Lone Peaks for extra protection and 10 minutes later I was back on my feet with ice around my neck and a popsicle in my hand. Life was good.
At only a few kilometres, this section to the top of MSA was the shortest of the entire course. It was also by far the steepest. You climb straight up, without a single switchback, to the top of Mont Sainte Anne. I pushed hard, but stopped a few times to give my legs a break. When I reached the final flat part, my legs were a little beat up, so I mostly walked it in to the aid station. I'd budgeted 1h10m and it took me 1h05m which I was pleased with.
It was a zoo at the aid station. 50km runners were strewn about in chairs as if in a hospital waiting room. Another 100 mile runner was there drinking coke, but I soon gathered that he was a whole loop ahead of me and likely one of the front runners. I grabbed more ginger cookies and some coke then made for the bathroom before looking for the exit. When I asked a volunteer where to find the next section, I was told I only had 26 minutes to complete the loop, and then had to explain that I was in a different race. For some reason, our bibs and the 50k bibs were marked in remarkably similar shades of red.
This next section was another short one that felt rather pointless. After climbing the mountain we had to descend halfway down and then return back to the same spot. Fun! The trail down was so steep, I could feel my quads complain with every step. As one particularly steep spot, I sat down with my knees tucked in front of me and enjoyed the view over the St. Lawrence River. A man riding an ATV was coming up the hill and seeing my seated called out "Ça va?" I smiled and replied, "Oui, ca va. It's just really steep." He then stopped the ATV on the hill at the steepest section — probably a 45 degree incline. Once he understood I was fine, he attempted to restart the ATV which was rather entertaining. After a few tries, he finally got it started and continued on.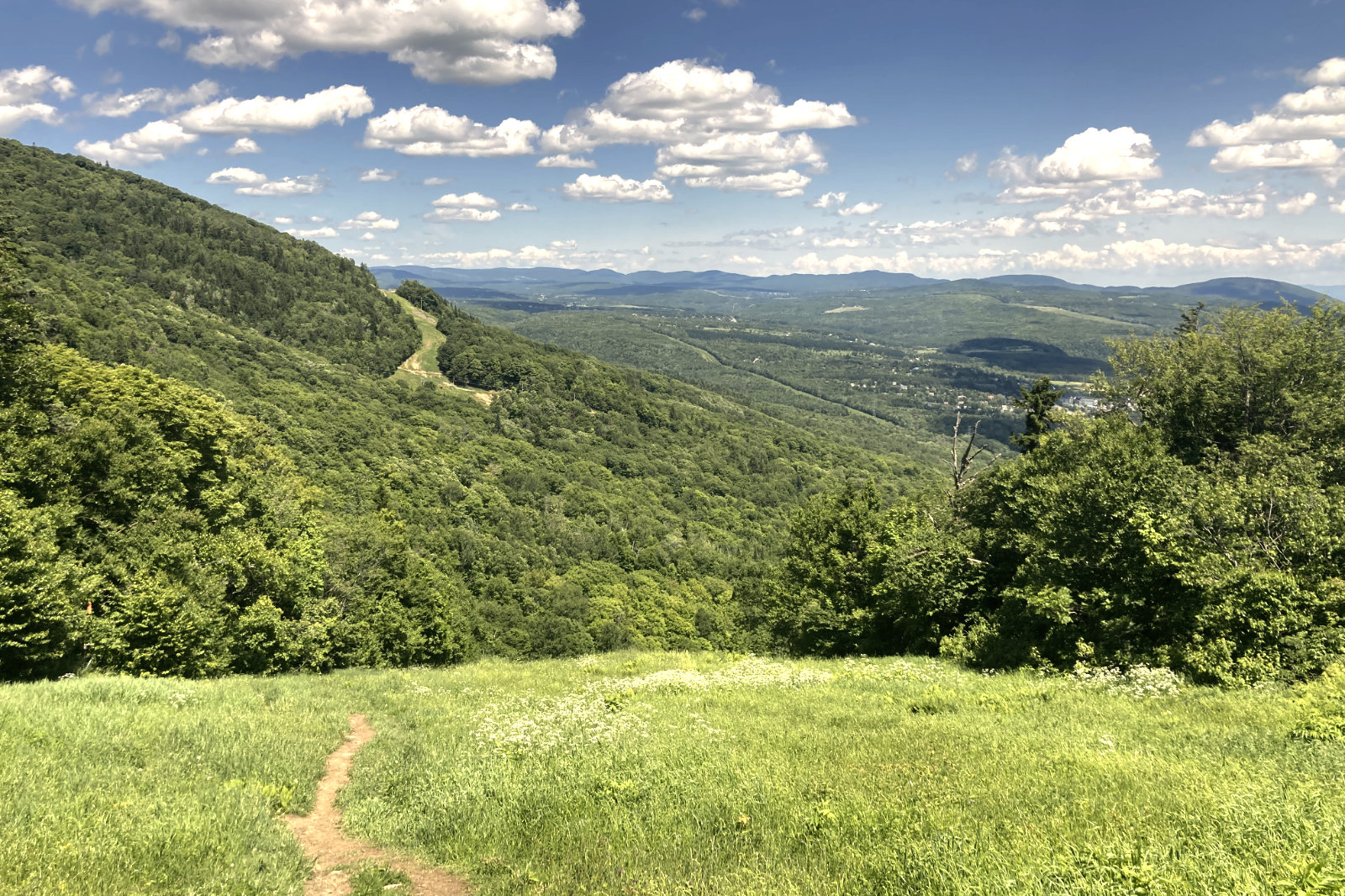 A view from the top of Mont Sainte Anne
I'd planned to take this section really easy to make sure I didn't blow up my legs before the last few sections which would involve a lot more runnable terrain. I soon started moving again and reached the bottom fine. After a brief flat section, I started hiking up a hill next to an older man wearing a vest who was working as a medic for the race. I joked that it was nice to have a pacer for a few minutes.
He eventually dropped back to chat to a runner behind me who seemed to appear out of thin air. He was wearing a 100 miler bib. "Where did you come from?", I called back. When he caught up we started chatting. His name was Jacob and he'd been near the front, jockeying between third and fifth place when he missed a vital turn at the aid station. Instead dropping down the front of the mountain to do this loop, he went out the other way and descended down the back of the mountain towards the Auberge du Fondeur aid station. At the bottom he realized his mistake and had to hike all the way back up, losing a couple hours in the process. I was impressed that he had stuck with it. It must have been very tempting to drop after something so frustrating.
Jacob was clearly fitter than me so I didn't try to keep up with him on the steeper part of the climb. When I got back to the Sommet aid station for the second time, I repeated my previous combination of coke and a couple ginger cookies. I'd budgeted 1h10m for this section and came on more or less on target. I was still two hours behind my overall goal, but at least I was hitting my splits in the back half. I kept things short and left once I had filled my bottles.
On my way out, I passed Jacob. He was chatting to what looked like his family. As I left, a man blew a conch and ran along side me banging a drum. I loved it. He eventually fell off and I continued alone on the trail which soon descended down the back side of the mountain. I looked back and saw Jacob behind me and by the time we reached the bottom, he was in front of me.
I later caught up to him on a flattish section. We chatted some more, then he pushed up ahead again while I walked. We leap frogged a couple more times until we neared the final stretch up to the aid station where we arrived at roughly the same time. My split goal was 1h35 and it took 1h40. I was happy with how things were going.
Anne and the gang were there at the Auberge du Fondeur aid station. It was great to see them and they were happy to see me. They refilled my water, Skratch drink, grabbed me some cookies and added ice to my bandana. A few minutes later, I saw Bastien roll into the aid station! What a great surprise.
Having already finished the loop that returns to this aid station, he was hours ahead of me and on his way to the finish. He was in third place and on pace to finish in 22 hours and some change. What a beast! We embraced and congratulated him on what must have been an amazing day. A few minutes later, I thanked my crew and set off towards Montée Saint Hillaire. I was 21 hours in and we had 35km remaining. Less than a marathon to go!
Section 4: Auberge to Fondeur (124km / 77mi) to MSA (159km / 99mi)
I left ahead of Jacob again who seemed to be taking his time at the aid stations. I was feeling pretty good and took off with the intention of hitting my A goal splits until the finish. There was no way I could hit my 24 hour A goal time at this point, but I could finish strong and get close to 26 hours if I pushed.
I was humming along as the trail took us out on the convoluted trails and overgrown roads on the back side of side of Mont Sainte-Anne. I was tired, but my legs felt strong and responded when I wanted to push. Everything was going great until I started walking up a gradual climb in the trees. I was suddenly overcome by wave of deep fatigue. My eye lids became heavy and I had an overwhelming desire to sleep. I sat down and closed my eyes for a minute. Ugh.
I stayed there with my eyes closed, not sleeping, but resting none the less. I was suddenly jerked back to reality as Jacob came up behind me and asked if I was okay. I was told him I was alright, but that I felt hollowed out and weak. I sat up and hiked behind him for while as the mosquitoes started to bite. We barely spoke, but every 30 seconds or so, one of us would smack their leg or arm or whatever limb was being bitten. It was awful. The trail just seemed to go on and I was fading. Where the hell was this aid station?
We finally came across a small tent in the middle of the forest, the most primitive of the entire course. There weren't even any chairs. On the plus side, they did have deet so we sprayed ourselves down to beat the bugs. After refilling my bottles and grabbing some things to eat, I sat on a cooler box and told the crew I needed to sleep. Jacob went ahead as I attempted to nap sitting up. 5 minutes past but I was still getting bitten and the crew was loud so it wasn't very restful. I suddenly sat up and shot off down the trail.
I was determined to push through this wall, but ten minutes later I was hit again with another wave of fatigue. I lay down in the dirt and set a five minute timer on my phone. I was being bitten by bugs and not really sleeping but it was so peaceful and quiet lying there. I don't remember an alarm going off, but something spurred me up and when I felt ready, I started running again. "Come on! Let's go!"
I clipped along at a 6-7min/km pace which felt fast at this point, but I didn't stop except for the steeper hills. We had 9km to get back to the St-Hilaire aid station was I was determined to get there as quick as I could. I finally caught up to Jacob who was walking and I pushed past him telling him I was gonna ride this wave as long as I could. He seemed to react and started running behind me. We arrived back at the aid station together and my watch showed a 1h30m split which was a decent time considering the two naps. A group of runners came in as well on their first loop and I even saw my pal, Aurelien there. After a quick refuel, Jacob and I left to finish the short 5km back to Auberge du Fondeur for the second time.
Jacob and I were running as a team at this point and had decided to finish the race together. We were both behind our goals for the day and having a partner served as a great motivator to finish strong. It can be very tempting just to "walk it in" when you don't feel like the day is going your way.
By the time we reached Auberge du Fondeur (149km) for the second time, it was 9pm and the sun was setting quickly. Anne and the rest of the crew weren't there and I couldn't remember if we'd planned to meet here or at the finish. I was actually happy that they didn't come as I didn't want to linger. Jacob's family was there, however, and he offered me a Red Bull so I walked over and joined them. I met his parents and extended family and we talked about how the day had gone. When we were all set, the two of us set off with a goal of making it to the finish in a 1h20m.
I pushed us to run as I didn't want to drag the last 10km on longer than necessary. The sun was setting fast and we soon had to put on our headlamps which made the descent rather disorienting. There were more climbs than expected and the trail wasn't as smooth sailing as we'd hoped. About half way down, my stomach started to turn for the first time all day. I'd grown tired of eating and figured I could just power through given how close we were to the finish. The trail markers started counting down the distance to the finish. 5km, then 4km, then 3km and finally 2km. After leading the for most of the descent, my stomach was bothering me and my quads were starting to complain. I asked Jacob to lead us to the finish.
With less than a kilometre left, we made our way down a steep trail that popped us out at a creek. There was a rope set up and to our surprise, we had to cross it. Wet feet for the finish! On the other side, we scrambled up a steep bank and maybe 200 meters past that descended down another bank to another creek. A couple hours earlier it might have been refreshing to bathe in the water, but at this point I really didn't want to fall in. We crossed carefully and walked down the final stretch of trail.
We finally emerged onto a paved road. We walked the road trying to figure out where we were. I then realized this was the same road leading to the MSA aid station 60 km earlier. We were so close. Just as we were about to turn into the trail to take us down to the finish line, we looked behind us and saw two headlamps. Shit! I sprang into action. On principle, I wasn't going to be passed this close to the finish. I pushed us to start running and Jacob followed. As we ran down the long road towards the end, we finally relaxed. We were done.
At the finish line, Anne and the gang were there with the dogs. Jacob's family was there. Even Bastien and Jessica were there! Jacob and I fist bumped at the finish line while his uncle snapped some photos of us. He's a professional sports photographer, we later learned. It was pretty special. It was almost 11pm and our official time was 26 hours and 53 minutes. We had tied for 11th place. This was a few hours behind my A goal time, but 30 minutes ahead of my B goal. I was happy, but more than anything I was relieved. I finally had a hundred mile belt buckle.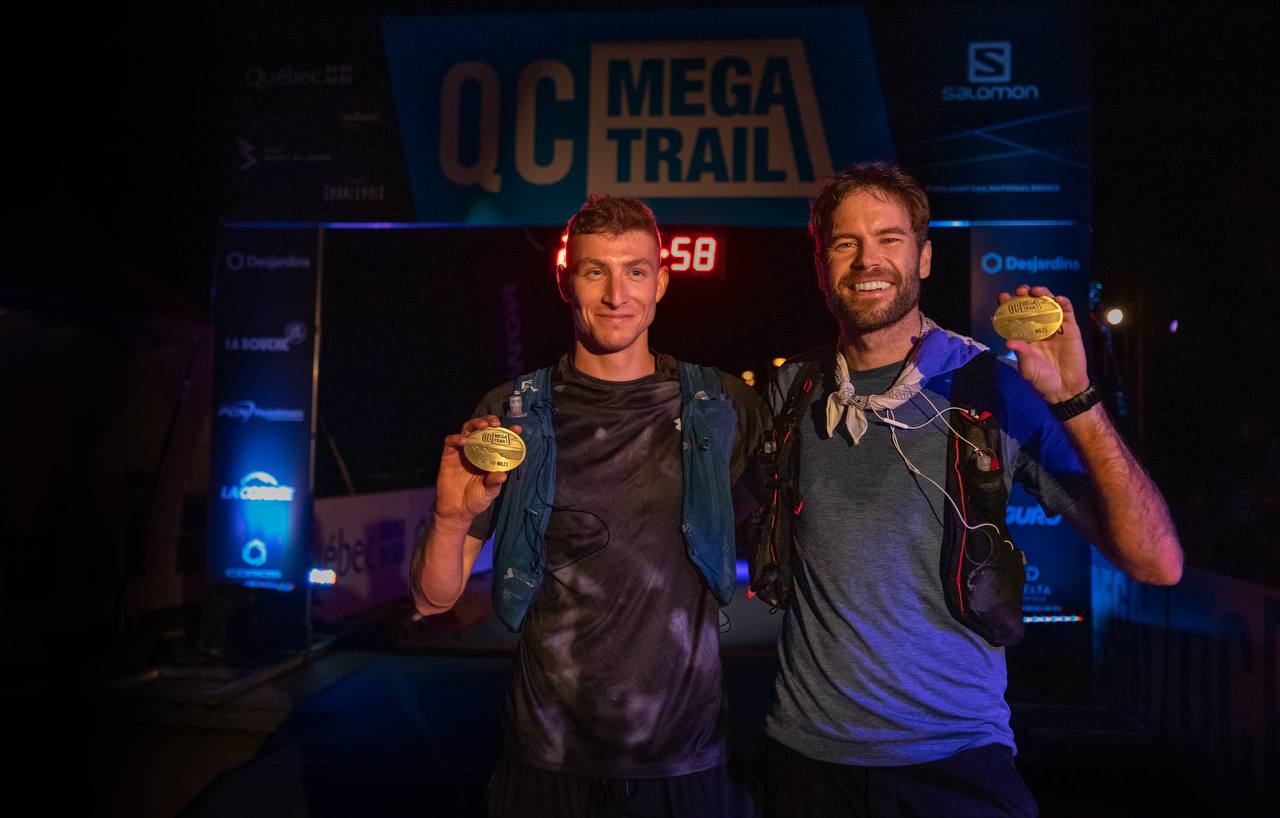 Belt buckles: a 100 mile tradition
---
The hundred mile distance is no joke. Whether you finish in 20 hours or 40, it takes a great deal of willpower to get to the finish line. Physically speaking, I'm incredibly pleased with how my first hundred went down. My training schedule had been tight and yet my legs had performed well. My stomach had also been super solid. Save for a brief period right at the end, I'd consistently averaged 200 calories an hour and it made a world of difference.
My biggest takeaway from this experience is how much of a mental challenge these longer races are. I did not expect such a negative turn so early in the race, but that's all part of the game. I'm so glad I turned that around, and I have Anne and my amazing crew to thank for that. They were the ultimate motivator. My impromptu running partner, Jacob, was also a big motivator in the final third. This was the first time I'd ever finished a race with someone and it was pretty special.
Finally, I'm grateful to Bastien for giving me the idea to register for the 100 in the first place. We only shared a few training runs together, but he was a constant inspiration in the months before QMT. His hard work really paid off too. He crushed it in 22 and a half hours, finishing third overall. Beast! Now that my body's recovered, I look forward to sharing more miles with him this summer as I build up for the Whistler Alpine Meadows 100 in September.