Earlier this year I DNFed at the Black Canyon 100k. It was a frustrating result and a rather embarrassing experience. I preferred not to relive the experience, so my race report sat in the "drafts" queue for while before I finally picked it up again. I think it's important to reflect on both one's successes and failures, so I finally made the effort to finish this up. Here it is.
Last fall and winter were busy times for me. In September, I drove Betsy across Canada in time for the WAM 100. In the weeks following the race, Derek and I spent three weeks together exploring Vancouver and the surrounding areas all while diagnosing a transmission issue in the van. At the end of this period, I arranged for Betsy to have her transmission rebuilt while Derek and I moved all my belongings down to Arizona in his truck and trailer. Between November and February, Anne and I split our time between Montreal and Southern California. To top it off, I drove a fixed Betsy down the west coast from Vancouver to Laguna Niguel, CA for Christmas. It was tiring.
While all of this was going on, I tried to train for two races : a road marathon in January and the fast, but challenging Black Canyon 100k, about a month later in February. I had just started working with a new coach, Adam Campbell, after my previous coach Andrew left the Ridgeline Athletics group to go out on his own. I considered following Andrew, but I decided it would be beneficial to work with someone new to gauge what kind of personality and approach I preferred.
Adam is seasoned professional and after our first phone call, I felt confident I would learn a great deal about training under his guidance. I gave him by context on my running history, shared with him my upcoming race calendar, and we quickly got to work.
The Carlsbad Marathon
I explained to Adam that I felt slow. I'd gained a lot of fitness over the summer while getting ready for the Whistler 100, but I had terrible leg speed. I could march for hours, but anytime my pace dipped below 5 min/km, it felt like hard work. After focusing on long trail races, the marathon distance was intimidating, not because of its length, but because it's an all out effort from start to finish.
The last time I ran an official marathon was in 2015 in Montreal. I finish in a time of 3:19 (4:45 min/km pace). I was happy with the result at the time, especially because it was essentially a training run for a 50k trail race three weeks later. Going into Carlsbad, I had no idea what to expect from myself seven years later (and seven years older).
In mid-November, Adam prescribed a 10k baseline test. My performance in a a race-like context would allow us to extrapolate what pace was possible for the marathon. I believed I could run a 40 minute 10k and set that as my goal. I was in Vancouver at the time, so I mapped out a flat course along the beach.
I managed to hit the halfway point in 19:45 — on target — but cramped up at 8km and was forced to walk the last two kilometres, finishing in 42 minutes. I was annoyed by the result, but later learned that the right side of my body was still tender from when I'd broken my hand in the fall. What felt like a "cramp" was really a muscle strain. It took some deep massage and focused stretching in the following weeks to get it back to normal. Even so, using the 8km result, Adam believed 3:10-3:15 was a good range to aim for in the marathon.
Over the weeks that followed, I ran a lot flat road, and slowly started getting comfortable with faster pacing. Adam prescribed regular intervals and tempo runs along with core and leg strengthening exercises. In December I started doing flat 20-30km runs with 5-10 minute intervals at various paces. It was classic marathon training and I enjoyed it a lot more than I expected. By Christmas, 4:45/km pace felt easy and I'd typically hit my lactate threshold at around 4:20/km. My race pace would likely be somewhere in between.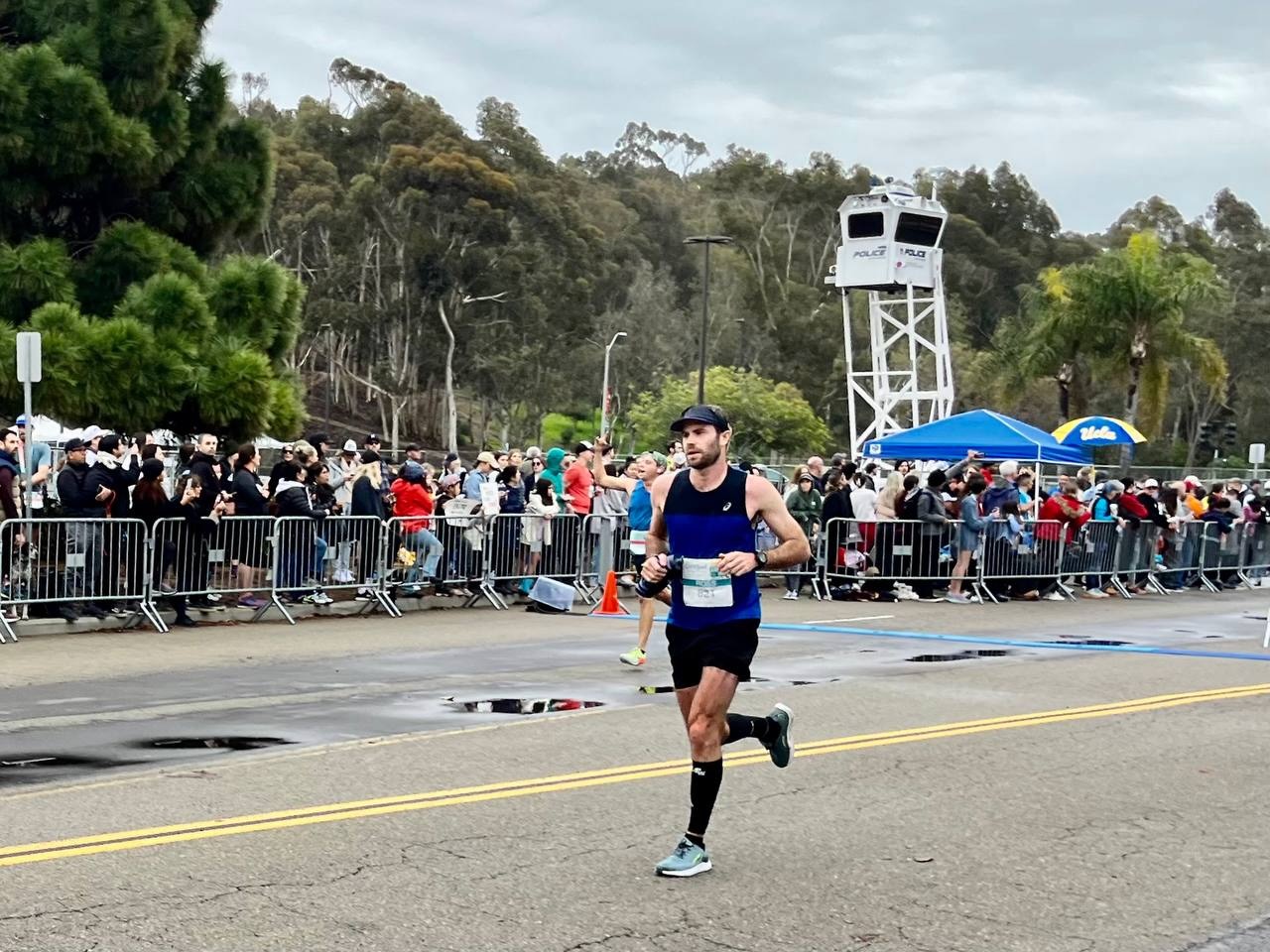 Carlsbad finish line photo
The night before the race, I drove down to the event venue and parked the van in a parking lot nearby. My parents would be driving down in the morning to see me at the finish line. My goal was to run 4:25/km for as long as possible which would result in a 3:05-3:10 finish. I was nervous about the suffering I would endure the next morning, but I told myself it would be over quickly compared to an ultra. From what I remembered in 2015, the first 35km are "easy"; it's the final 7km that really test you.
The following morning, I got up, prepared som breakfast and walked across the street to pick up my packet. Being a smaller race, there were no predefined pace corrals, so I lined up at the front of the pack. The race started and I set off just in front of the 3:10 pacer with the intention of staying there for the whole morning.
In preparation for Black Canyon, I intended to eat as though I were in an ultra, aiming for 300+ calories an hour. That translated to a gel every 20 minutes plus some more liquid calories from my water bottle.
The first 5km were uncomfortable, but I soon found a rhythm and started to enjoy myself. The course is a a rolling out and back along the beach. Musicians and entertainers lined the sides of the course, singing and cheering on the runners.
I passed the half way mark a little under 1:34 feeling strong. I joined the 3:10 pace group for the second half as they were running about a minute ahead of that goal. I continued to clip away at my target pace until around 35km when — as expected — everything started to hurt. My pace slowed by ~5 seconds and it became harder and harder to hold on. The last 5km were a real battle. I continued to slow, but wouldn't let myself stop. In in the final few kilometres, the 3:10 pace runner passed me and I realized my sub 3:10 goal was out of reach. I crossed the finish line just under 3:11. I was gassed.
I'd lost 3 minutes in the last 6 km and my legs were jello. Once I caught my breath, a smile crept over my face. The whole experience was way more enjoyable than I'd expected. I high five the runners around me and shared congratulations.
My parents quickly found me in at the finish line area and they took me out for brunch. Compared to an ultra, this was far more civilized. I was physically drained, but far from destroyed. Plus I still had a whole afternoon to relax!
I wish I'd been able to hold on at the end, but I was pleased with the result. More than anything I was happy that my body could handle faster pace running again. I was excited to see how that would relay into the trails at Black Canyon.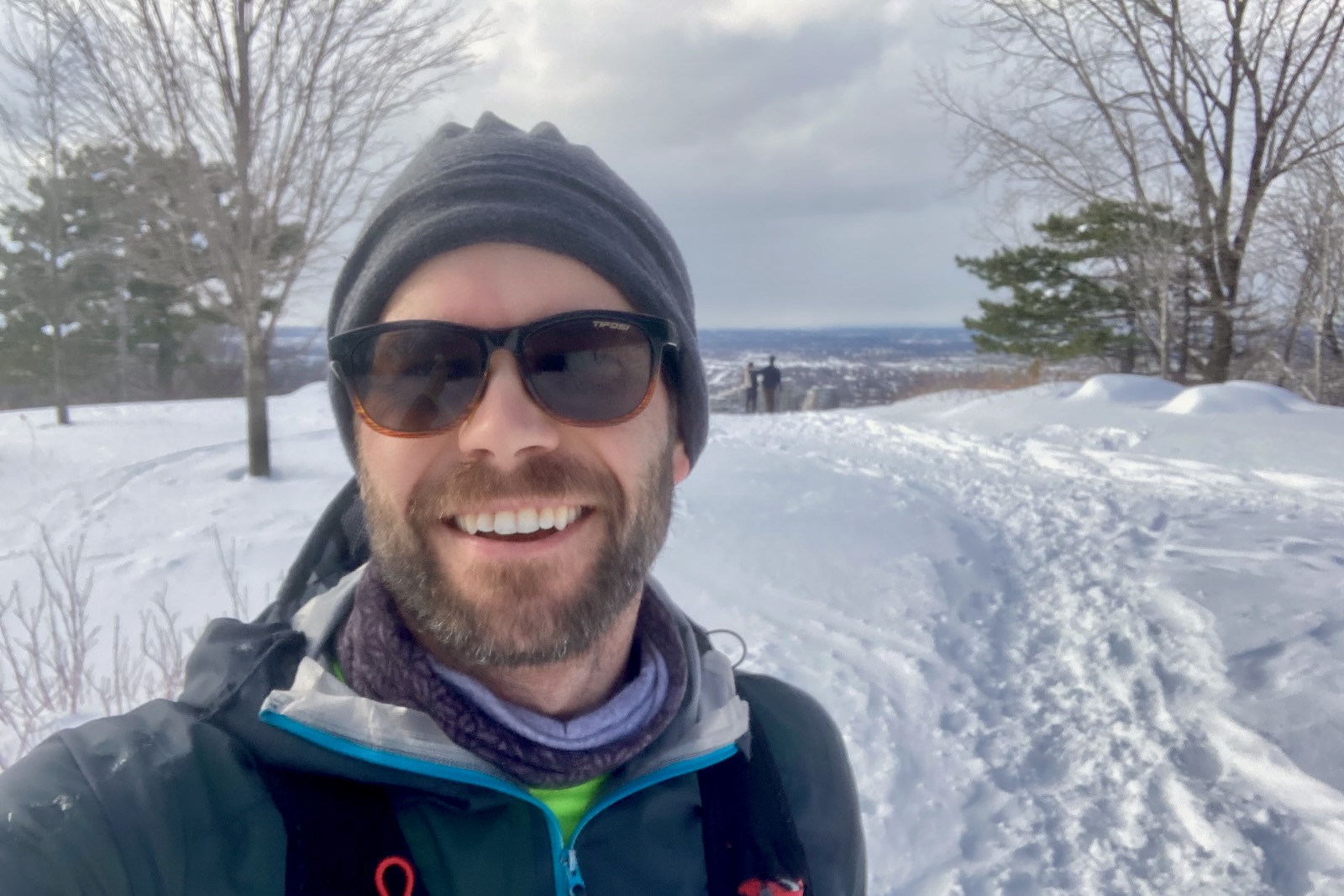 Training in the snow in Montreal
Black Canyon 100k
After Carlsbad, I flew back to Montreal to see Anne. We were housesitting at her parent's house in the suburbs. It was quiet and pleasant, which I liked, but training runs were cold and flat. A couple times a week, I'd drive into town and run on Mount Royal for some hills and variety. I was a little nervous about the transition to the dry and hot weather in Phoenix so I would often end runs with a hot bath — a poor man's sauna.
The temperatures at Black Canyon usually top out at 20C/70F, but being February, this was bound to feel hot. The course was famous for frying folks coming from the north.
A week before the race, I flew back to California by myself to pick up the van. Anne and I decided it wasn't worth the expense to have her Anne fly down with me, so Derek agreed to be my support crew. On Thursday, two days before the race, I drove to Arizona to pick up D and drive down to Phoenix. Derek was there with Anne for the Whistler 100, and so he was familiar with the ins and outs of crewing.
I wasn't as organized for the race as I should have been. When I Arrived in Golden Valley, AZ to grab Derek, I told him I'd forgotten both my hat and sunglasses. Derek, on the other hand, had heaps of gear, all in well-organized bags and protective cases. He was bringing his camera gear to film the event. We stopped at a sports store in Kingman and then hit the road.
The Black Canyon course is about an hour north of Phoenix, and about 3 hours from Kingman. We arrived at packet pickup with plenty of time to get prepped for the following morning, but I still hadn't packed my drop bags or organized my crew gear. I felt relaxed, but it dawned on me that I should have sorted out all this stuff ahead of time.
On the way down, I'd been messaging Emily who was also running the 100k. We quickly found each other in the parking lot. I parked Betsy next to her boyfriend's Sprinter and we spent some time catching up. We hadn't seen each other since the White River 50 miler in 2019. After a grocery store run and a couple other pre-race errands, we all met up for dinner at the nearby restaurant.
I tossed and turned that night, but woke up the next morning feeling relatively fresh. After breakfast and some coffee, we drove to the start, about 40 minutes away, going over the race plan on the way. I'd be seeing D three times between the start and the finish: 30km, 60km and 80km. We had a mini check list for staying cool, hydrated and well-fuelled.
The Black Canyon trail a fast course that's known for being deceptively tough. It's net downhill and only has 1700m of vertical gain, but the hardest sections are in the second half when most runner's legs are tired. Many go out to hard and pay for it later on. I estimated I could finish in under 10 hours, but to be successful, I knew I would need to focus on staying cool and fueling well. The dry air and exposed sun would quickly punish any mistakes.
When we arrived at Mayer High School, we parked the van and walked over to the starting line on the school track. The atmosphere was electric. I walked past Kaci Lickteig getting a pre-race talk from her coach Jason Koop and spotted many other familiar faces in the ultra running world. On the track, I quickly found Jacob, my pal from the QMT 100, who had also flown down from Montreal. Standing just in front of us were the "golden ticket" hopefuls who would be aiming for a ~8 hour finish to nab one of the three 3 spots available for automatic entry into the Western States 100.
The gun went off at 7am and we made our way around the track. I was smiling and soaking up the energy when I looked down in horror. I hadn't pinned on my number! I quickly turned off the the track and ran across the grass towards Derek. "Gimme the car keys! I forgot my bib!" He fished them from his pocket, tossed them to me, and I sprinted back to the van. I opened the sliding door and rummaged through my bags to find my number. What a bonehead move! I finally found it and pinned it on my shorts. I told myself to relax, but it wasn't so easy. My heart was pounding.
I ran back to the track — a bit slower this time — as spectators gave me quizzical looks. "Be cool. Relax. Easy now", I told myself. Only about 10 minutes had passed, but it felt like an eternity. I trotted along and smiled at runners starting to gather for the next wave. I crossed the start line again, wound around the track, and continued on towards the trail.
The irony was that my official race had only just started, but I still felt the temptation to chase. I followed series of roads through the town of Mayer, eventually catching up to a few runners at the back of the pack, before finally cutting onto the Black Canyon trail. The sun was rising and it was beautiful.
Over time, I began coming up behind packs of 5-10 runners in a queue. The trail was narrow and I had to find ways to gracefully pass them all at once. It wasn't easy and I almost fell a few times while trodding over bushes on the side of the trail.
By the first aid station at 12km, I'd probably passed 40 people. I told myself to relax, knowing that I was probably overdoing it. I could easily ruin my race if I didn't chill out. Over the following 8km, I found a good rhythm on smooth single track and fell in with a runner from Toronto. We ran together for a bit, chatting about Canadian races, training, and gear — the typical conversation at these things.
By the time I reached the Hidden Treasure aid station at 21km, it was already rather warm. The air was still cool, but the sun was hot on the skin. I arrived at 8:50am, right on target with my sub-10 hour goal pace, but this meant I'd run the first two sections in 1h40, fast than I should have. My heart rate felt higher than was ideal, so I took an extra minute to fill my bottles and chat to the aid station crew.
It was 10km more to Bumble Bee Ranch where I'd see D and could regroup. With a slight downhill, the trail was just and easy to run. The views were stunning and everyone I spoke to was having a blast. I chilled out the best I could, but it was hard not to run fast.
I rolled into Bumble Bee feeling warm. I found D and asked him to put some ice in my bandana while gave him an update on the first few hours. I was making good time, but knew I needed to slow things down. My body was heating up quickly and temps were going to keep rising. I had a small hot spot forming on one of my feet so changed into light socks. When I was ready, I set off on the climb up to Gloriana Mine.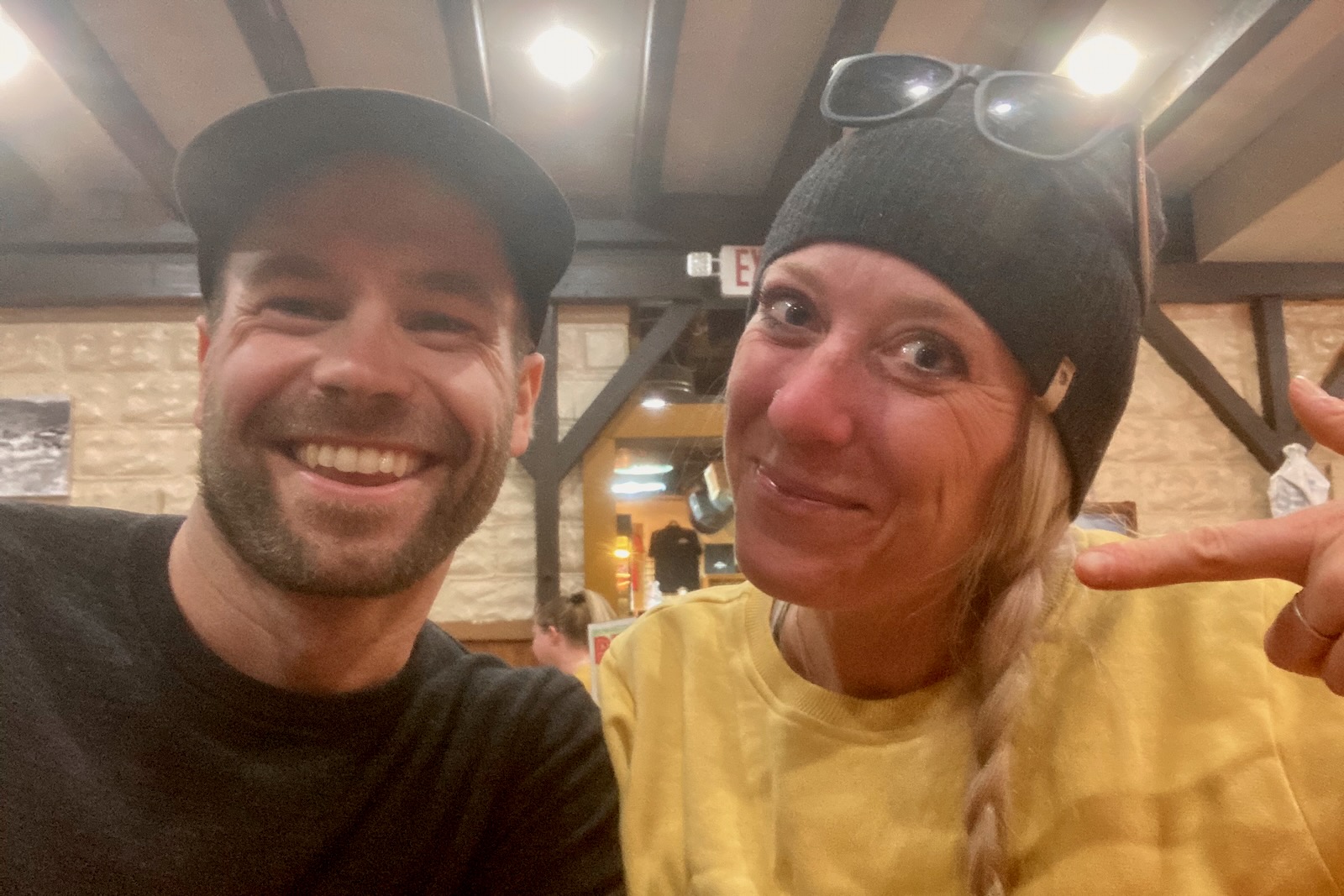 Grainy photo of Emily and me the night before
I slowed my pace over the next section 10kms, but my stomach started to get sensitive. I could still eat, but I had to force myself to finish my gels and chews. I was losing energy. In hindsight, I was probably low on salt. I should have been taking salt tabs every hour like I normally would. The hot sun and dry air were zapping me.
My legs were still moving well though and I soon came up behind Emily. She thought I'd want to pass, but I wanted some company so we ran together for a while. She hadn't found a rhythm yet and wasn't enjoying the rocky descent down to Soap Creek. I felt the same way. The terrain was runnable, but rocky and tiring on the legs. I was bonking.
I felt better having someone to chat with, but I progressively felt weaker and weaker during this section. I made it to Soap Creek at the 50km mark in 5 hours. My split was slower than planned, but more concerning was that I didn't feel confident I could maintain my pace.
I went ahead of Emily after the Gloriana aid station, but immediately started to slowdown on the way to Black Canyon. My legs were tired and I was losing control of the race.
The Black Canyon City aid station sits at 60km, leaving only a marathon to the finish. Some fatigue is expected for this point in the race, but one needs to have enough energy left for the last two big climbs. When I arrived, I was toast. I hadn't been drinking enough and my stomach was unhappy.
I found Derek and Emily's boyfriend in the crew section and sat down in a chair. I wanted to drop, but I didn't have a good enough reason to do so. I was fried but I could still move.
I should have been consuming large amounts of electrolyte drink to give myself a sporting chance at finishing, but instead I sat there just telling D how bad I felt. I'd lost the drive to continue. We hadn't discussed this kind of "what if" scenario. Had Anne been there, she'd have given me some tough love, but that wasn't D's style.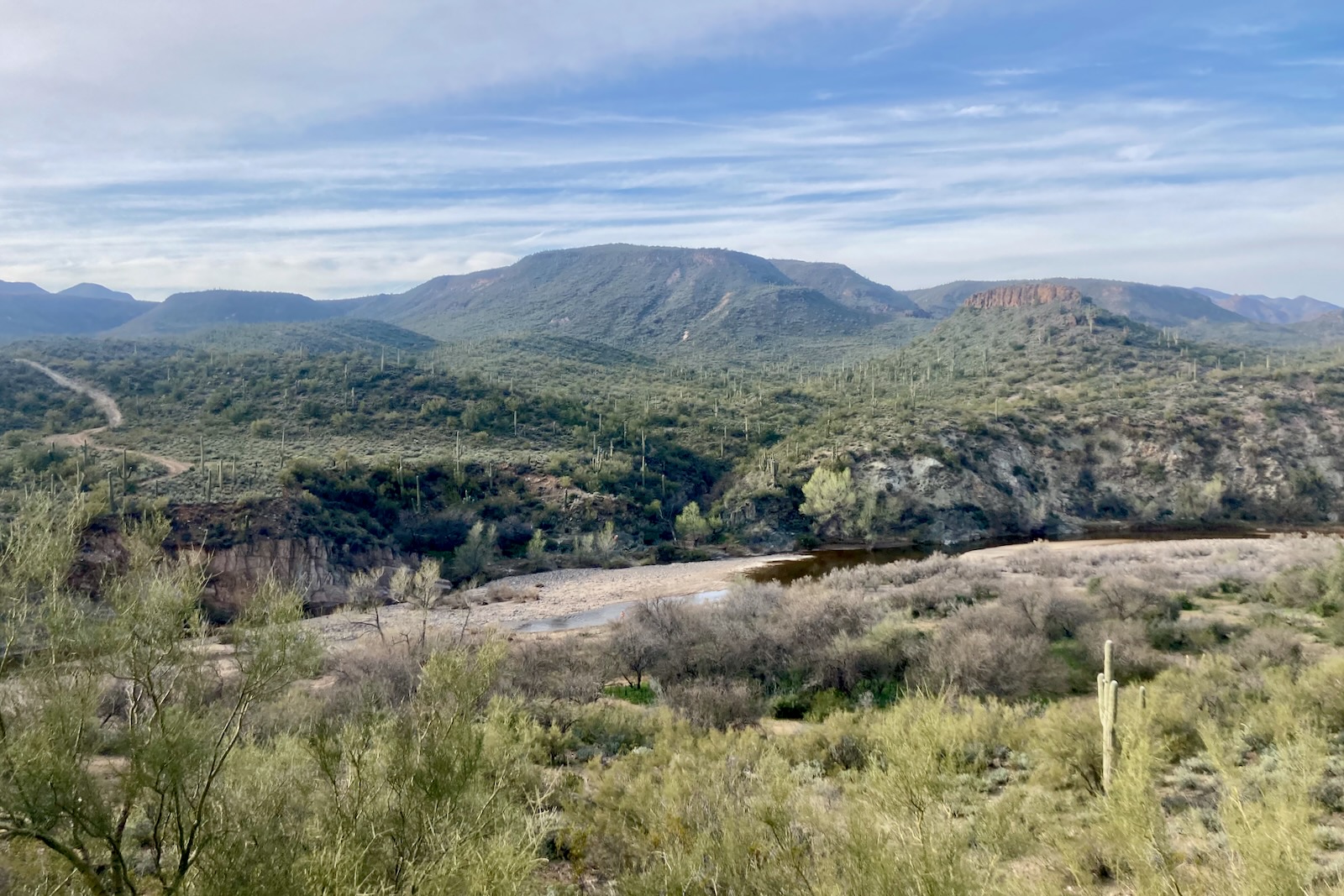 Looking back at the Agua Fria River
After 10 minutes, I walked out of the aid station feeling "okay", but far from great. I summoned what energy I had and ran the next section before the big climb. I felt a better, but the sun was beating down hard.
After descending down to the the Agua Fria river, I stopped to cool down and splash some water on myself. It felt great but my legs started to ache. On the other side, I squatted down to stretch my legs and immediately felt my left leg cramp up. It was excruciating. I couldn't tell if it was my hamstring or my calf, but there was pain in the area right behind my knee, and I immediately started limping.
I tried to run it out, thinking it might be temporary, but soon realized it was fairly serious. My muscles were dried out and the damage had been done. I walked and tried to stay positive, but figured I'd probably have to drop at Cottonwood Gulch. I pulled out my phone to send Derek a message, but I didn't have any cell service. This was the most remote part of the race. I pull on some music and started walking.
About an hour later, I arrived Cottonwood. I immediately asked one of the aid station volunteers if this spot was accessible by car. She told me this was the most remote aid station (which I knew) and almost impossible to access unless you had a 4x4 vehicle and knew the route. I was gutted. This meant I had another another two hours of walking ahead of me.
I loaded up with snacks and plodded on. About an hour later, I checked my phone and discovered I had service. I sent Derek a message to let him know the plan and when to expect me at Table Mesa. I soon started to receive messages from Anne and Bastien urging me to keep going. I really appreciated their support but I had explain to them I was injured and running was out of the question. With an additional 20km, I didn't want to do any serious damage by needlessly pushing myself just to finish.
Even though the walk seemed to take forever, Anne kept me company on the phone for final few miles and I eventually made it to Table Mesa. I had no regrets about my decision to drop. Derek was supportive and understanding. I wanted a cold drink and to be out of the sun.
My day at Black Canyon started on the wrong foot and I never managed to get things under control. I made some rookie mistakes and let myself get dehydrated and low on salt, ultimately leading to a serious muscle cramp. Looking back, I might have been able to course correct at Black Canyon City, but my mental game had been off all day, and I didn't do what I needed to do.
It took a solid two weeks of rest after the race for my leg to return to 100%, but I was grateful it wasn't more serious. I was soon training again and feeling better about the poor result. I definitely have unfinished business at Black Canyon. God willing, I'll be back next year to do it right.