In mid-March, when the threat of "the virus" hit Canada and the United States, public gatherings and events were cancelled in droves. In the sports world, it began with the professional leagues — NBA, NHL and so on — eventually trickling down to smaller events like trail and ultra races. Many of us in the ultra world were eager to follow The Barkley Marathons, a March staple that never fails to add to the lore of endurance running. Sometimes these are of stories of success, but more often than not, they are stories of spectacular failure. I was particularly excited for Gary Robbins to return for a fourth crack at the race, and to see whether Belgian FKTer, Karel Sabbe, would improve on his impressive first try last year. But, alas, it was not to be. The Barkley was cancelled.
My first race of the year — a return to Calgary for the Outrun Backyard Ultra — wasn't until June, so I crossed my fingers that it would remain on the calendar. My optimism was short-lived, however. It was soon cancelled as well. I ran the same race last spring, going 24 loops for a total of 100mi/160km and setting a new personal best in the process. I was incredibly happy with my 5th place result, but my goal this year was to win the race outright and earn a "golden ticket" to the world championships in Tennessee. To reach this goal, I needed to be ready — both physically and mentally — to run 30-40 loops, truly unknown territory for me. I still had time to get into proper shape, but frankly, part of me was relieved when it was cancelled. With so many hours going into the van build, it had become difficult to focus on anything else.
After running the WAM 110km last September, I'd taken a break from running that was supposed to last a month but ended up stretching to almost six. Throughout the winter, while working on the van nearly everyday, I continued to run a couple times per week, but I didn't log any runs over 25km. Last spring and summer, I averaged 10 hours of training a week, covering anywhere from 60-160km with 2000-6000m metres of vertical again, so this was a significant reduction in load. The long hiatus was good mentally, but my leg muscles gradually weakened and issues with my IT band started to flare up. I focused on strengthening the muscles that needed it and eased back into training. Still, I felt like a shadow of my former self.
At the end of February, I went for my first long run in weeks. I combined my usual 13k jaunt down to the beach and back with a tour of the hills overlooking the I-5. It was warm out and I returned home feeling dehydrated. For the rest of the afternoon, I continued to feel a bit "off" and by the evening I was hugging the toilet. I wasn't sure if it was food poisoning, stomach flu, or even that other thing. I don't get sick very often, so this was a shock to my system and I was completely out of commission for two days. I'll spare you the details, but let's just say, it was a full-spectrum assault on my body.
In an odd way, those horrible 48 hours served as a much-needed break from working on the van. Plus I got to camp out on the couch and binge watch The Good Place and the first season of Lost (which, it turns out, has aged very well). On the third day, I stoically tried to install a pair of drawer slides in my parents' kitchen, but I was far from productive. What should have taken an hour dragged on for most of the morning. I hobbled around like a zombie until I eventually gave up and returned to the couch. A few days later I was back to 100%, but my motivation to run had been sapped dry. And with my June race cancelled, there was no longer a pressing need to train. I didn't run for another three weeks.
---
Towards the end of March, Ella shared a link with our ultra running group. It was for something called the Quarantine Backyard Ultra (QBU), a "virtual" backyard race. Huh? How does one race other people when you can't be together physically? Well, such is the beauty of the backyard format. It is a test of endurance, not speed.
The way this works is that each runner has one hour to run 4.17mi/6.71km, but must wait until the start of the next hour before they can continue running. As long as you continue completing your loops on time, you are tied for the lead with everyone else. The race continues ad infinitum until only runner is left standing; everyone else earns a "DNF" (Did Not Finish). Instead of a standardized course (like at Outrun or the original Big's Backyard Ultra), QBU runners were given the choice of (a) creating their own route around their local neighbourhood, (b) running on a treadmill, or (c) a combination of the two. I signed up immediately.
The race was organized by Personal Peak, a personal training company based out of Calgary, AB, and spearheaded by runners Dave Proctor and Matt Shepard. Dave finished third at Big's last year and Matt was the winner at Outrun. Matt was actually the guy I was hoping to beat in June (not that I stood a chance against him in the QBU). Dave had helped procure a slew of well known elite runners including last year's winner at Big's, Maggie Guterl, who completed 60 loops (as in 60 hours of running) and Will Hayward who "assisted" her by going 59. With these big names on board, word spread fast and soon hundreds had registered.
On April 3, the day before the race, the official count had ballooned to 2400. Our running group had assembled a crew of seven friends who would be running in different cities across Canada and the US. While there would be an official Zoom call for athletes to log into on race day, our crew arranged a Skype call so that we could check in with each other between loops. This aspect was my favourite part of the entire event.
I spent Friday morning working on some cabinets for the van. In the afternoon, I cleaned the garage and pushed all my tools to one side. I then went about creating up the ultimate aid station. On one side, I set up a lawn chair and a pool lounger, giving me different rest options. On the other, I laid a table cloth over my work bench and assembled a variety of food and drink options. I filled up a 15L jug of water with one of those twisty spouts so I could easily refill my handheld bottle. I also made sure I had a station with the usual medical supplies I pack for races: acetaminophen, topical ibuprofen, antacid and salt tablets. The pièce de résistance was a mini-corral leading up to the entrance of the garage comprised of pink flags I had picked up from the hardware store.
The unusual part of the arrangement, however, was the prominent placement of my computer. Normally pre-race technology concerns are limited to charging your watch and choosing some tunes, but this thing required a full-on battle station. I plugged in my monitor and speakers, then ran a long ethernet cable in from the house to make sure I had a solid internet connection. Dongles of all kinds were plugged into the side of my laptop. I then arranged a variety of windows across my two screens: (1) the official race timer; (2) the official Zoom video conference call; (3) the private Skype call with our group of friends; (4) a back-up Telegram chat window; and finally (5) Spotify for some interloopal pump-up music.
The official rules for tracking your loops relied on a mixture of technology and the honour system. If running outside, you could record your 6.71km runs with a GPS device and then upload them to Strava (or the equivalent). If you were on a treadmill, the expectation was that you would take a photo of the distance covered on the digital read out (or something). As an outside runner, I'd be relying on my Suunto to speak to my phone via Bluetooth, which would then sync the data to Strava. I had zero expectation that anyone would actually need to review my data, but even so, the number of potential failure points was unnerving.
---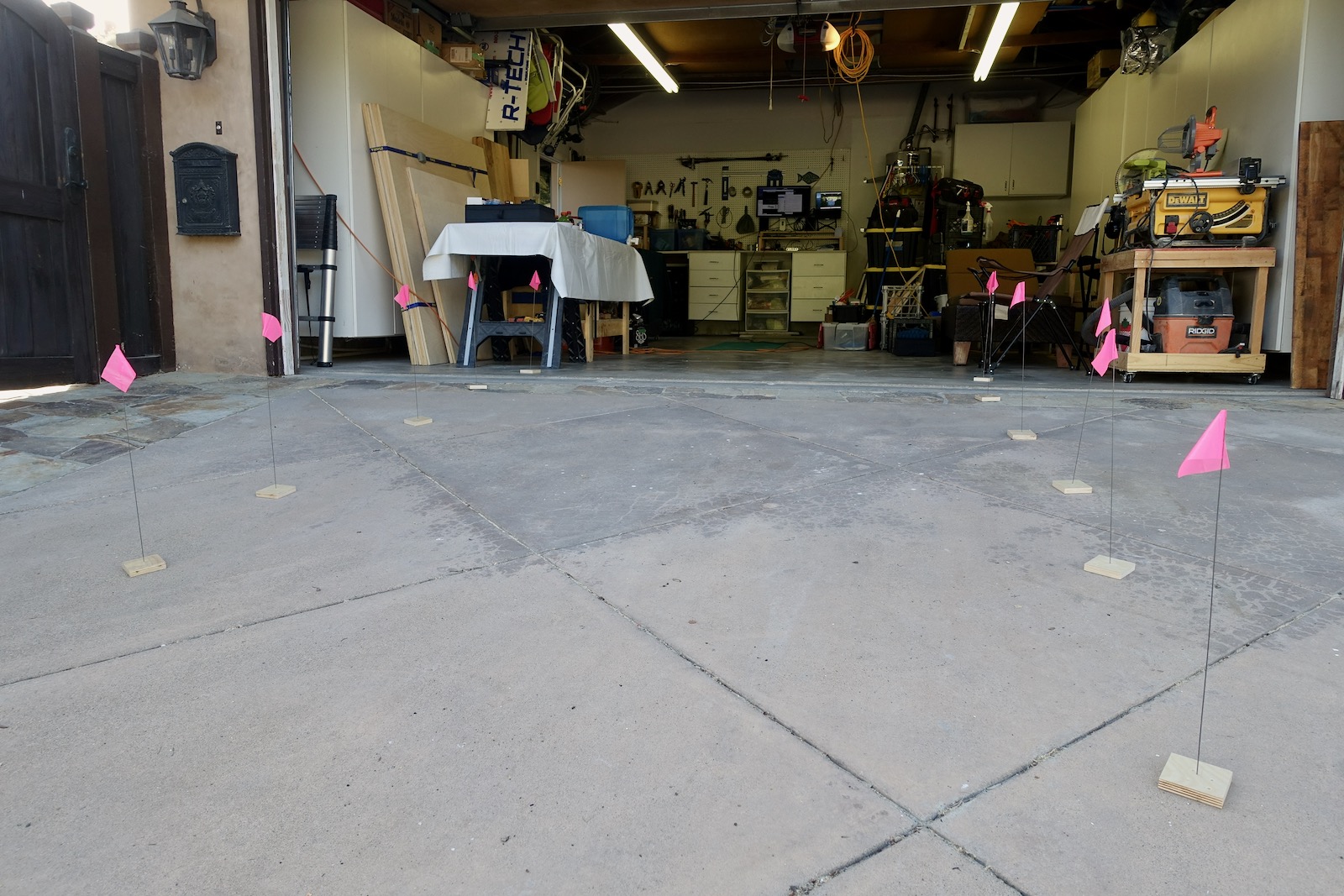 DIY starting corral.
A unique aspect of the QBU was that with people competing all over the world, the race would start at different times of the day, depending on your time zone. Some had to wake up early (like me) while others were starting in the late evening.
The start time on the West coast was 6am. On Saturday, the morning of the race, I woke up at 5am and had some coffee and a small breakfast. I then hopped on the official Zoom conference call as well as the private Skype call our friend group had arranged the night before. Just before 6am, my parents joined me in the garage to see me off. I'd given my mum an Instagram stories tutorial the night before, so she recorded my departure, something she'd continue to do throughout the day.
My hips felt tight before I even started the first loop. I'd hoped they would loosen up throughout the day, but I also concerned about all the pavement running. The course I'd put together included a 3km stretch of sandy, hard-packed trail that would be slightly easier on the body, but the rest was on the sidewalk or road. The route began with a gradual downhill to a main street that connects to a paved walking/biking path running along side the road. From there, the path drops down a steeper hill until, at roughly 2km, the path splits giving me two options: (a) to the left, a long gradual hill — boring and exposed — up to a baseball diamond or (b) a paved and hillier route heading down to the beach. I generally prefer the second route for regular runs, but for the QBU, the first route would mean less time on the pavement. With my GPS watch recording the distance, there was also room to improvise and change up the route as needed.
The first few loops were a breeze. The weather was nice and cool and loose clouds protected me from the sun. Of our group, three were running in the drizzy cold of Seattle, two were venturing into the sub-zero temps of Calgary and another was in equally cold conditions in Bend, OR. Relatively speaking, the conditions I had in Southern California were near perfect. In Calgary last year, 12 of my 24 loops were completed during torrential rain. This time round, with good weather, a fully stocked private aid station and a doting mother, I had all the ingredients for a very long run.
By the fourth loop, my hips had loosened and I was feeling pretty good. I was eating well and had settled into a rhythm. I was averaging 45 minutes per loop which entailed running downhill for the first 13 minutes followed by a brief walk break, running continuously to the baseball diamond and back (returning around the 28 minute mark), followed by an alternating mixture of running and walking back uphill to the house. When back at the garage, I ate mini apple strudels and donut holes, leaving the candy and Oreos for later. At one point in the morning, I was treated to a hot plate of breakfast sausages and potatoes — thanks Mum!
While on the home stretch of my sixth loop, I passed a neighbour tending to the garden in her front yard. "How many times are you gonna run up and down the street?", she asked. "Well I've done six so far, and I hope for at least six more," I replied. She gave me a quizzical look, shook her head and returned to her plants.
I finished my sixth lap (first marathon!) and arrived at the garage to find the burrito I had requested from my crew chief. Laying off the sugar and eating real food as much as possible was working well. I felt strong. It wasn't a particularly hot morning, but by noon, the clouds had disappeared and the sun was hot on my skin. I put on some sunscreen and upped my liquid intake to almost 500ml/loop. The pair of Altras I was wearing were pretty beat up and my feet and calves were beginning to ache, so I changed into a pair of Adidas. Otherwise, everything else was going smoothly.
Our interloopal Skype hangs had settled into a routine as well. Isaac, Ella and Mitchell had a consistent video connection while Emily popped in and out. There were a few others active on the chat as well. Everyone was doing well and we discussed food choices, shoe and clothing changes, muscle aches and all the other usual running related topics.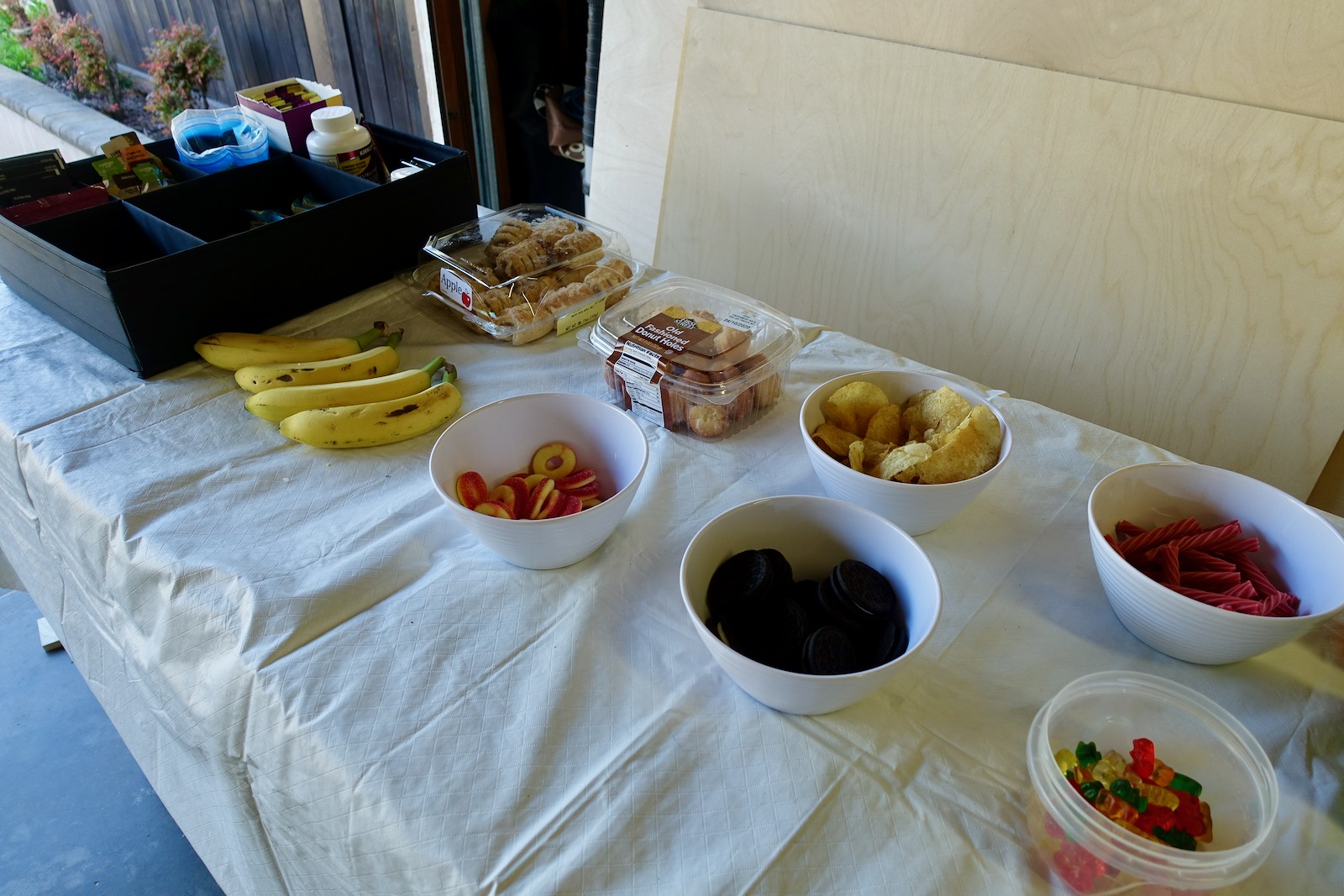 Workbench turned refreshment table.
By the afternoon, the local bike path — my race course — was rather busy with walkers, runners, cyclists, dogs, and baby-strollers. The folks in my parents' neighbourhood are pretty friendly, but I was amazed by just how many people smiled, waved, said hello or gave me a nod. This was way beyond the normal amount of attention I get out there on a typical run. Perhaps everyone was feeling extra friendly because the beautiful weather, but I just pretended they were cheering me on.
The afternoon loops were significantly harder. The time in the exposed sun was taking its toll. Back at the ranch, I took a couple of salt tablets to keep things balanced. Mum also baked some oatmeal cookies which were a welcome surprise and paired well with some cold ginger ale. My calves and thighs started to get pretty sore as we neared the 50M/80km mark. I applied ibuprofen gel to the sore spots and used the electric massage tool to ease the tight muscles.
The heat began to ease off by loop 11 (5pm) and I started to feel much more comfortable. I don't remember the exact numbers, but when we hit the 50 mile mark (loop 12), most of the 2400 runners had dropped, but far fewer than expected. There were almost 400 hundred remaining at the start of loop 13.
Everyone in our group was starting to feel the toll of the day's miles. Mitchell, who had stoically been running on icy roads in Calgary, finally dropped around this point. Emily had only signed up for the race the day before and had set a goal of 9 loops. She had already passed that goal and decided to call it a day as well. Ella, Isaac and I were still standing and looking towards 100k, the next big milestone. I drank the Red Bull I had been saving and put on some music to keep my momentum high.
The sun started to set around this time. I arrived back from loop 13 to find a warm bowl of chicken casserole waiting for me. It was salty and delicious. It was actually too delicious. I ate far more than I should have and immediately regretted it when I sat up and to start running again. I started to cramp and I felt uncomfortable pains in my lower back. Fortunately by the time I finished the loop, the cramp had started to ease, but my loop time was a few minutes slower than normal.
It was properly dark when I set off on the 15th loop. This one would mark 100km. The streets were vacant and the temperature had cooled significantly. I felt much more comfortable running, but my legs were starting to weaken for the first time of the day. It took me 15 minutes to reach the fork, two minutes behind schedule, and 31 minutes to return from the baseball diamond, three minutes behind. I finished the loop in 50 minutes. This wasn't too concerning, but it was nonetheless an indication of my fatigue. Still, I got the loop done and added the 100k notch to my belt.
When I checked the Skype chat, Ella made an announcement: she was dropping. Dang! I didn't see that coming. She was looking great and I figured she was primed to push into the night. She then explained that she had to work in the morning, so stopping at 9pm was her self-imposed cut off. Ha! A cool 100k and still in good enough shape to put in a day's work the following morning. Classic Ella.
There were roughly 350 runners left when we set out for loop 16. In our sub-group, it was down to Isaac and me. Isaac was aiming for 24 loops/100M. I wasn't really sure what I was aiming for anymore; all I knew was I didn't want to stop prematurely. I still regret not starting the 25th last June at Outrun. I'd been consistently finished my night time loops well under the cut off and Megan and Ella (my support crew at that point) were pushing me to continue. The problem was I'd already lost the mental battle. I'd lost the drive to continue. I knew I wasn't in a position to set a new PB this time round, but even so, I didn't want to quit before my body was ready. "Die in the field, not in the chair."
It was quiet when I set off on the sixteenth loop. It was a beautiful evening, but with the local path empty and no cars on the road, the stillness was slightly unnerving. My body was aching and really starting to feel tired. I tried taking extra walking breaks, but found it easier to run continuously at very slow pace. I stuck to it and finished the loop in 50 minutes.
Mum and Dad were in the garage when I returned from loop 16. It was 10pm. They were heading to bed soon and wanted to know how much longer I intended to run. I knew I had one more in me, but I wasn't confident about much beyond that. I heard Isaac's voice on Skype. He'd pulled something on his last loop and it sounded like he was going to call it quits. Ouch! I told him I'd probably only be doing one more and encouraged him to at least start loop 17. He was game. My parents said they'd stay up for one more loop and Dad told me there was cold beer in the fridge. With that, I decided I would do one more and call it a day.
The last loop was the toughest. My muscles all started to ache at once and my running form had turned into a zombie-like shuffle. I knew this feeling well. Once your mind leaves the present moment and wanders off to the finish line, your body responds accordingly. It seems to release all the pain it had been hiding from you. It's not pleasant.
It took me 55 minutes to finish my final outing. Walking up the street to my small corral of pink flags, I was relieved to be calling it quits. I don't think I could have gone much further without a proper visit to The Pain Cave. My parents were waiting outside the garage when I finished my final jaunt up the road. Hugs were in order. I logged on to Skype for the last time of the evening to check in with Isaac. He had started his final loop, but decided to turn around to avoid getting injured (a smart move, it sounded like). We congratulated each other on a great day of running and said good night.
I completed 17 loops for a total distance of 70 mi/114 km. There were a hundred or so left in the field, but I had no regrets this time round. I was very happy with the day and even surprised myself. So much of endurance running is mental. Knowing you can go the distance is as valuable as being physically able to. This was a great reminder of that.
---
I've kept this relatively short and focused on my experience of the Quarantine Backyard Ultra, but the real story is so much bigger. Backyard running is having its moment right now and the QBU pushed the concept even further into the public consciousness. When I went to sleep on Saturday night, hundreds kept running. When I woke up, I had become a spectator and logged on to enjoy the show. I followed the live feed for another day and a half.
Unfortunately, the QBU finished on a bittersweet note. After 62 hours, the race was down to two: American runner, Mike Wardian, who'd been running loops around his neighbourhood in Virginia and Czech runner, Radek Brunner, who'd been running on a treadmill. They'd been battling head to head for 16 hours. At the beginning of the 63rd loop, the bell rang and Mike set off for another tour of his block. Meanwhile, Radek was stilling standing on his treadmill. A minute and a half passed and he still hadn't started running, violating an ambiguous rule never designed for treadmills. There was some confusion and the race directors tried to get a hold of Radek to tell him to start running, but he didn't hear them until it was too late. He was disqualified. Mike returned from his 63rd loop and was crowned the winner.
It was a heartbreaking. Radek was angry and I couldn't blame him. He had more left in the tank. Even Mike requested to continue the race. Our group chat dissected the video footage, discussed the nuances of the rules, and I think most of us were on Radek's side. Still, the race directors had made the call and that was that.
It wasn't the ending anyone had wanted, but in some ways it was fitting. This wouldn't have happened in a normal race with a real bell and a real start line. Internet technology made the event possible, but the limitations of that same technology led to its uncomfortable finish. As wonderful as the race was, it had an asterisk next to its name from the start. Had Mike and Radek continued running and surpassed Johann Steene's 68 hour record, what would it mean? Would it have really counted as a new record? I'm slightly relieved we don't have to answer that question.
Running for two and half days is still an incredible feat that very few endurance runners can even dream of doing. Both Mike and Radek shared heartfelt and sincere messages after the event ended and there was no indication of any resentment or bad blood. I only hope both are invited to Big's this October for an honest, on-the-books showdown. I won't summarize all the other amazing stories that occurred over the two and half days, but here are a few (more are covered in this Runner's World article):
Anna Carlsson ran 43 loops around a snowplowed course on a frozen lake in northern Sweden, finishing third overall
A man in Dubai ran 20 loops inside his apartment earning himself the nickname of "Living Room Guy"
In Northern Alberta, Matt Shepard ran his loops outside until it got too cold and then resorted to running in socks around a 25 meter loop inside a coffee shop, lasting 41 hours and finishing 6th
A thirteen year old in Virginia ran his first 100 miler (24 loops), outlasting most of the field
I feel grateful to have participated in such a bizarre event. The folks over at Personal Peak did an incredible job, especially considering they put it all together in a matter of weeks. I'm a little bummed that I won't get to try for a new PB at the Outrun ultra in June, but at least my big summer race is still currently scheduled. I have four months to get into shape for the Fat Dog 120 Miler in Manning Park, BC. Fingers crossed this COVID mess will be behind us by then.